Our Montezuma volunteer program is for environmental enthusiasts who are inspired by experience through hands-on conservation initiatives and who enjoy being surrounded by exotic nature.
Located near Montezuma on the Nicoya Peninsula, Refugio Nacional Mixto de Vida Silvestre Romelia is the real deal of Tropical Mixed Forest experience. The sheer number of incredible wild animals and the beauty of the surroundings will ensure you never want to return to "civilization" again!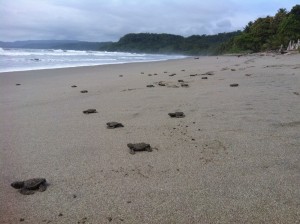 Our mission is to rally support for long-term, sustainable strategies aimed at the restoration and preservation of precious wildlife and land. Utilizing prime oceanfront donated to the program for stewardship. We have a singular opportunity to offer the environment a new beginning, and sea turtles a fighting chance and our visitors a window into the natural world for generations to come.
We need you!!
Join us!
Email us your C.V and cover letter to refugio.romelia@gmail.com