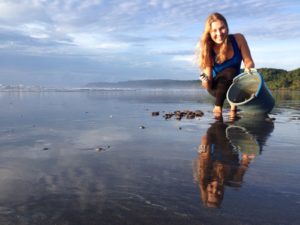 EMAIL US NOW AT:
refugio.romelia@gmail.com
Or apply thru one of our agencies
Romelia Volunteering Program
Project:
Ex situ and in situ Management and Conservation of Sea Turtle nesting grounds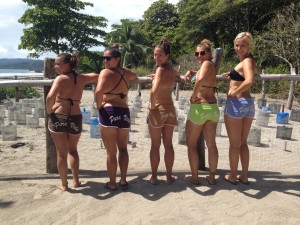 (Lepidochelys olivaceae) at the Romelia R.M.V.S (Cocal Beach and Cocalito Beach), Montezuma, Cóbano.
Mission
Our mission is to rally support for long-term, sustainable strategies aimed at the restoration and preservation of precious wildlife and land. Utilizing prime ocean front that has been generously donated to our program for stewardship, we have a singular opportunity to offer the environment a new beginning, sea turtles a fighting chance and our visitors a window into the natural world for generations to come.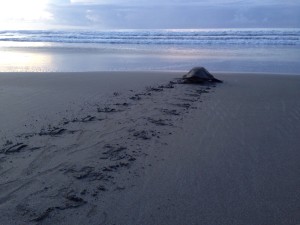 Objectives
By joining the efforts of volunteers and R.N.V.S., we aim for long-term protection and preservation of Cocal Beach sea turtle nesting grounds through:
•       Establishing funded, on-going sea turtle monitoring and research programs.
•       Instituting systems for clean-up of non-biohazard refuse which currently threatens to overwhelm the sea turtle nesting grounds
•       Actively encouraging re-habitation of the natural ecosystem via replanting of essential food and shelter vegetation.
•       Promotion of local and international student and professional on-site research.
•       Implementation of environmental awareness programs highlighting the importance of protecting marine and coastal ecosystems to Costa Rican schools, communities, and tourists.
The Romelia RMVS, located in Montezuma on the Nicoya Peninsula, was created on November 24th, 1998 with the objective of contributing to the conservation of the Tempisque Conservation Area (ACT, from its acronym in Spanish).
The refuge stemmed from an initiative of Albert Ingalls and Gitza Gatti, who followed a dream of conservation for land that was their home and the birthright of their children. The land, now the Romelia Mixed Wildlife Refuge (RMVS-Romelia), contributes to the ACT as part of the peninsular biological corridor (Cabo Blanco Absolute Reserve, Curu Mixed Wildlife Reserve, Karen Morgensen Reserve, Nicholas Wessberg Reserve and the Romelia Mixed Wildlife Refuge). It is adjacent to the Nicholas Wessberg Absolute Reserve, one of the first and most valuable protected wild areas in the country.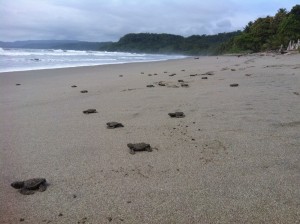 The land of the RMSV exudes beauty. It is beachfront, bathed by rolling Pacific Ocean waves, guarded by iconic sea stacks and inland nurtured by peaceful rivers and tranquil waterfalls. It is one of the peninsula's last bastions of pristine wilderness. The RMVS is visited by tens of thousands of eco-tourists annually.
This Refuge is approximately 224 Ha 8349 m2 (SINAC, 2011). Within this territory, there are some distinct ecosystems, primary forest, secondary forest, riparian forest and gallery forest. The avifauna includes more than 57 species of birds, 26 species of herpetofauna including, 13 reptiles and seven amphibians. There are also 26 species of mammals, including 11 types of bats.
The weather is characterized as humid, hot and scorching. Annual precipitation is about 3,000 mm, distributed from May to December. Precipitation presents deficit between July and August during the period known as "Veranillo de San Juan," which lasts up to 70 days. Average annual temperature is between 24 and 27 C (75,2 to 80,6 F) with an annual potential evapotranspiration of over 1710 mm. The aridity index is over 20%, and the hydric is between 40 and 60% (Herrera 1985 quoted in RMVS-Romelia—SINAC-MIAET, 2011).
Biodiversity
| | | |
| --- | --- | --- |
| CATEGORY | DESCIPTION | MAIN SPECIES |
| Vegetation | Area with influence from both Guanacaste dry forest and the Southern humid forest. | MahoganiCedar TempisqueLaurel |
| Bird Fauna | 365 individuals belonging to 57 species. | Bare- throated BellbirdTrogonLong-haired ManakinHorned Guan |
| Herpetofauna | 20 species, 13 reptiles and seven amphibia. | Turtles |
| Mammals | 26 species of mammals, including 11 species of bats | DeerGreater GrisonGray-headed TayraSword-nose bat |
Description of Volunteer Program
Volunteer and Assistant Profile
Our volunteer program is for environmental enthusiasts young and old who are inspired by experience through hands-on conservation initiatives. Assistants, a subset of the volunteer workforce, learn to specialize in habitat-sensitive data collection as well as creation and management of sea turtle nurseries.
Minimum stay for volunteers is five days. Minimum stay for assistants is four months.
Necessary equipment:
Hiking shoes, comfortable clothing preferably made of natural fabrics. Insect repellent, sunscreen, cap or hat, linens or a sleeping bag. A separate set of dark clothing and a red light flashlight are required for sea turtle patrolling and research.
Important: Use of drugs and alcohol prohibited during the stay in the Refuge.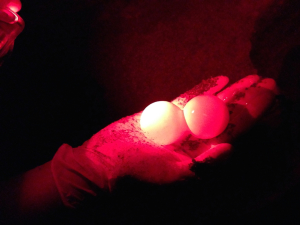 Our Volunteer Program is open year-round.
Work Schedule Requirements
All volunteers will be required a minimum 5-hour work schedule per day. Days off can be planned for longer than minimum stays. During the peak hatching phase, plans might be subject to change without notice.
Accommodations
We provide the use of a two-story house with kitchen, dining area, living room and a bedroom that can accommodate up to 10 volunteers. The house has running water, two showers, and toilet. For your convenience, we provide lockers (bring your lock) and a safety box for valuables. Volunteers are required to maintain the house and treat it and each other with respect and consideration. Any volunteer that we feel is disrespecting our program may be asked to leave without notice.
Foodservice
We provide with three meals a day, prepared in the typical diet of the Costa Rican family: rice, beans, tortillas, soups, vegetable stews, pasta, etc. Meals are prepared by our staff with the assistance of a volunteer. All volunteers are required to assist with clean-up.
Contact Information
Romelia R.MV.S.
Montezuma, Costa Rica
3 KM Northwest from Montezuma School
P.O. Box: 76-Cobano, Puntarenas Costa Rica
Email: refugio.romelia@gmail.com
https://www.facebook.com/RefugioRomelia
Refuge Officials
Nefertiti Ingalls
Director
Email: refugio.romelia@gmail.com
Thoren Ingalls
Supervisor
Email: thorenlacon@gmail.com
Jennifer Rivera
Manager
Email:manager.romelia@gmail.com
Martin Alcides Ramirez Mora
Field Worker
phone: 8502-9066
Antonia Marin Porras
Cook
Help us preserve one of the most beautiful protected areas in Costa Rica!